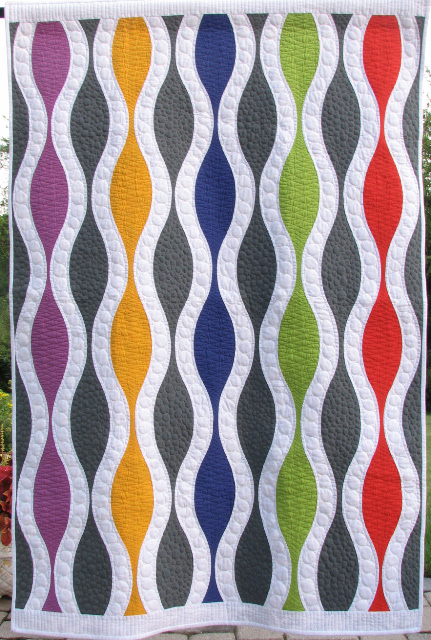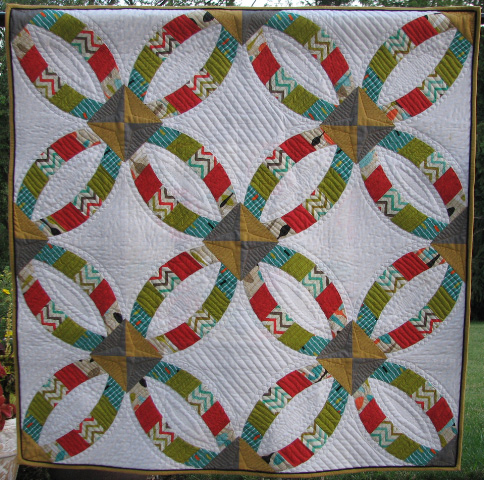 Comtemporary
Curved
Quilts
Contemporary Curved Quilts was inspired by two sisters who developed a curved ruler and a variety of quilts with simplicity in mind. Many of the patterns are traditional designs with a contemporary twist. The quilts are a fun and simple method of sewing curves with no templates or pinning.
In this class you may make any of the Sew Kind of Wonderful patterns you want. The technique will be basically the same for all with a few simple variations. I will help you with whatever pattern you choose. This is one ruler with many possibilities.
Please select your pattern at least two weeks prior to class so I have time to review it.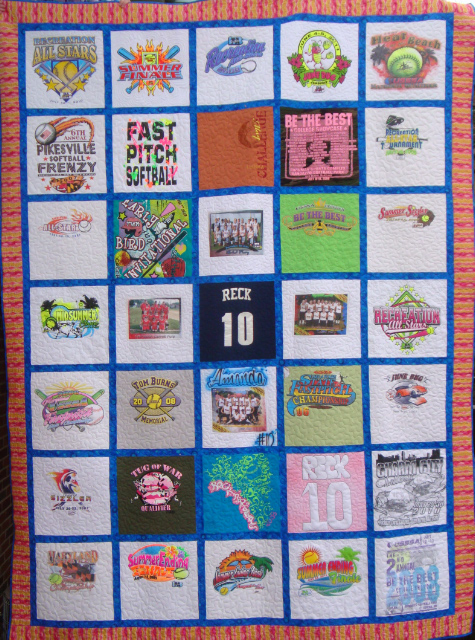 T-Shirt Quilt
Have you been wondering what to do with all those T-Shirts your child can't part with? Making them a memory quilt of their favorite tee's is a great gift for those going off to college. This is just one of many layouts you may use to make a t-shirt quilt.
This may be a one day, two day or three day class. It depends on how much help you need. I would suggest 3 – 4 hours each day to complete the quilt.
Price will depend on how many days you sign up for. 1 day (3 hours) - $30, 2 days - $50, Third day would involve putting on the borders. See the borders and binding class.


Click here for supply list.
---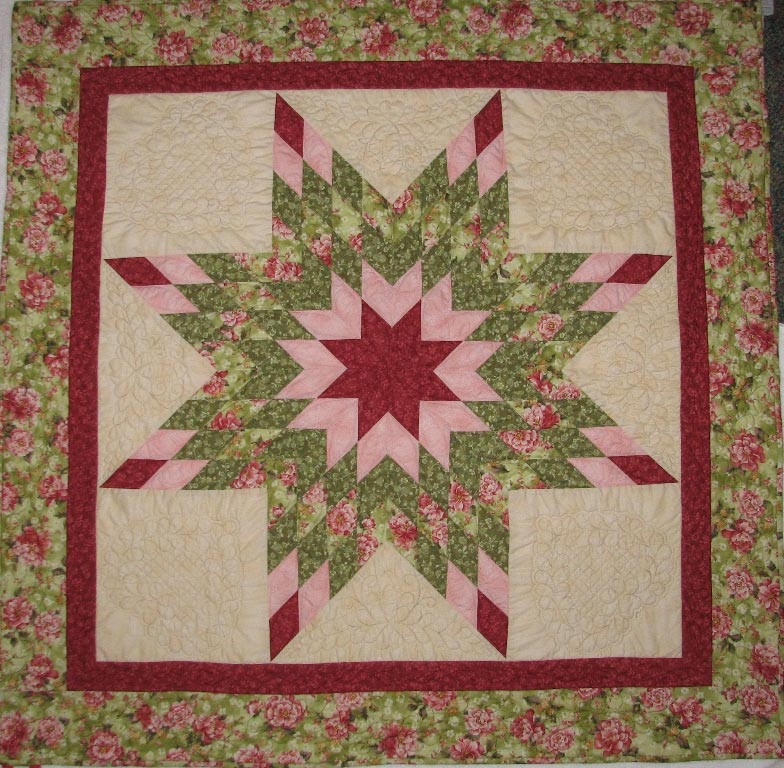 Lone Star / Radiant Star Quilt
This class will use strip piecing technique to teach you how to create the beautiful Lone Star or Radiant Star. This sample is from Eleanor Burns book, Radiant Star Quilts. Selection of fabric is very important in making this star, if you want help with that aspect of this class, we can start with meeting at a quilt shop and I will be happy to help you select your fabrics to create the look you desire.


Price for 4 hours: $35 ($55 If I meet you at a shop first)


Click here for supply list.
---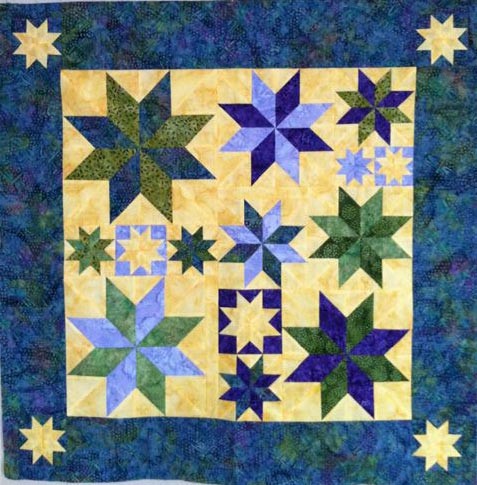 Rapid Fire Lemoyne Star
Using Deb Tuckers ruler you will create a perfect Lemoyne Star. This is a techniques class and geared to teaching you the techniques and you will finish it at home. In the 3 hour class you will make 2 different stars and have a good understanding on how to make more stars of any size.


Price for 3 hours: $30.
Click here for supply list.



---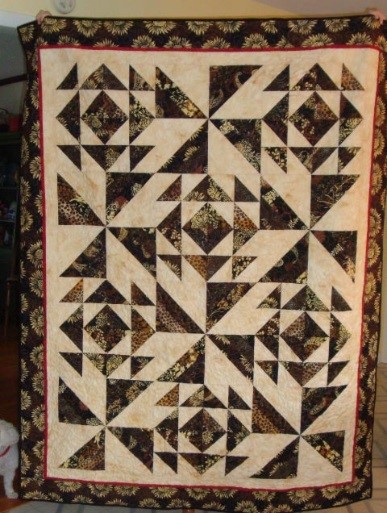 Multifaceted
This is one of many quilt that use the strip tube ruler. This is a fun technique with so many possibilities. If you have never used this ruler before and you have a large supply of 2 ½" strips, this is a great class to take and learn how to use them up.
Come to class with a Jelly Roll or your own scrappy strips. Also you'll need a background fabric.
Price for 4 hours - $35.00 plus the strip tube ruler (I will order the ruler for you or if you have one at home bring it and learn how to use it)
Click here for supply list.


---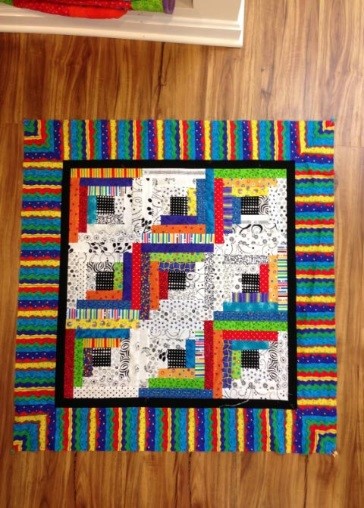 Log Cabin
In this class I will give you a thorough lesson on how to put your borders on perfectly. We will cover measuring accurately and mitering the corners as an option. I would encourage you to bring a quilt that is ready for the borders and actually put them on in class.
If you have a quilt that is ready to bind, bring it to class to do the binding. You will put your binding on and learn how to make it perfect. A binding that is less than perfect will actually keep your quilt from winning a ribbon in competition. If you have any desire to compete in local contests, make the binding perfect. If you do not have a quilt ready to bind, I have sample swatches for you to practice on.
I have The Binding Tool for sale if you are interested ($10.00). It is a great tool to use to join the ends together perfect every time.
Add on with borders and bindings is putting in a cording before the binding. It adds a beautiful finishing touch to every quilt. ($10.00, includes cording)
If you would like to make the sample above that includes mitering borders, cording, and bindings let me know and I'll put a kit together for you or you may bring your own fabric.
Kit fee: $20.00
Click here for supply list.
---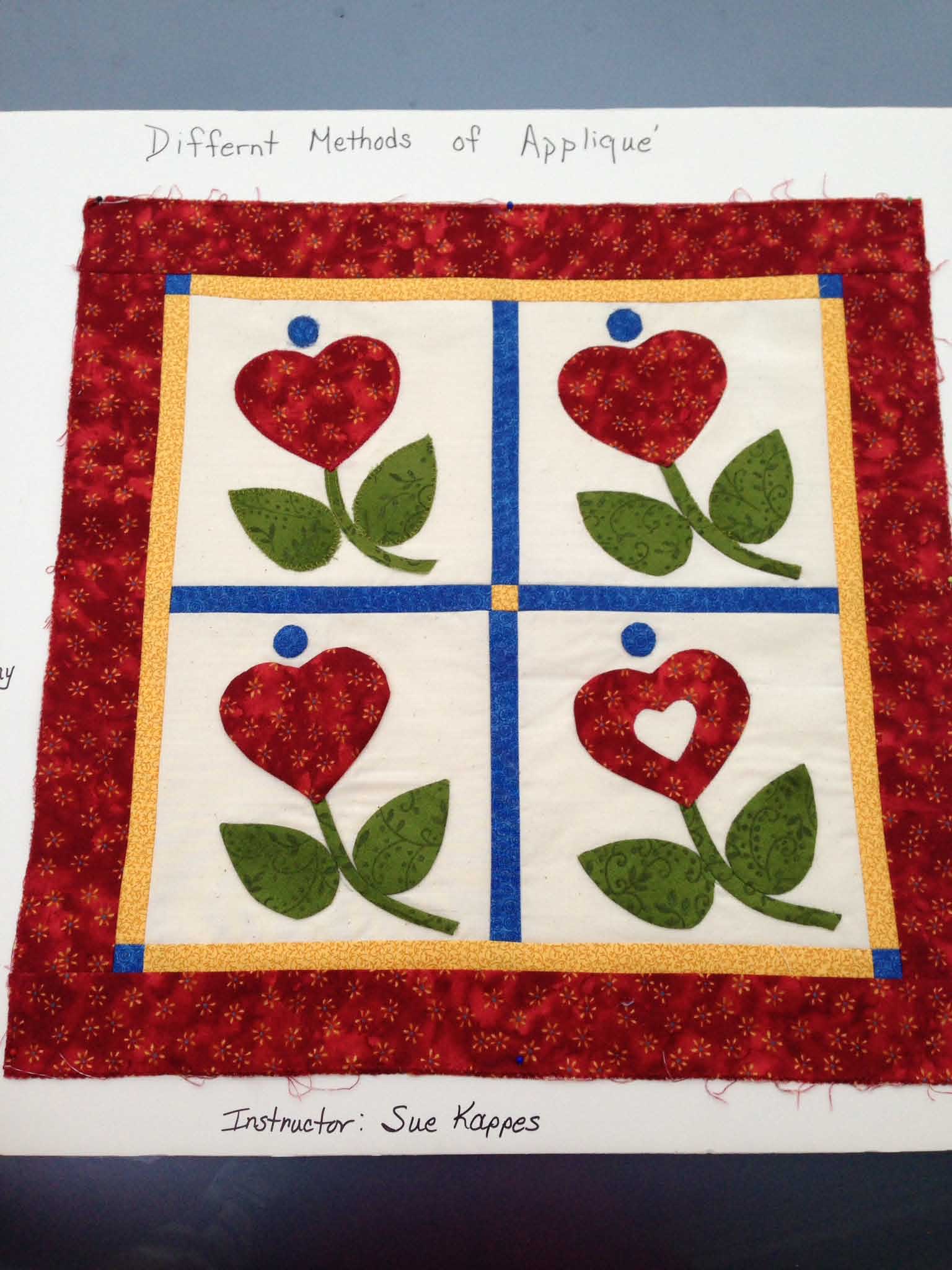 Applique
Explore the various methods of applique with Sue. Many patterns include applique, and by learning how to applique you will be comfortable adding applique to your quilts. Through the six hours you will experience the different methods of applique, varous products to aid you, make the different stitches and use the tools and techniques available to you. By experiencing a variety of methods you will find the one that works best for you and learn how to use the appropriate method for a given project. We will work with a simple flower to practice points and curves, needle turn, freezer paper method and reverse applique along with bias stems.
---
Borders & Bindings
Border and binding info here...
---
Create Your Own
Do you have a technique you want to learn? Is there a quilt you want to make? If so, let me know and I will put a class together to meet your needs. Contact me to discuss dates and times.
Contact me for supply lists for the class. Once you decide to take a class, I will email the supply list to you.